Pediatric PT & OT Services – Seattle, WA Pediatric Therapy
---
The main office is open Monday through Friday from 8 AM to 5 PM and our staff is available and happy to speak with you. Please don't hesitate to call us with your questions or concerns at 206-367- 5853. If you would prefer to contact the office by e-mail, you can reach us at [email protected].
If you are a new client looking for services for your child please contact our office. We always appreciate an opportunity to speak with you to discuss our services, your concerns for your child, your child's medical history, and working with insurance. Completing the intake questionnaire is the first step in scheduling. Once your completed intake questionnaire is received, your child's name will be placed on the appointment list to schedule as quickly as possible.
We all enjoy our days working at Pediatric PT & OT, and are happy to speak with you and your children. We will always do our best to answer any questions or provide administrative support as needed.
If you have billing or accounting questions, please contact the office at 206-367- 5853 or by e-mail at [email protected]
---
Greg White
Our company's administrator; he has been with Pediatric Physical and Occupational Therapy Services since its inception. He is our billing and accounting person, submits claims and receives payments from insurance companies and clients. Greg shares with Rosemary in our vision for the goals of the practice.
---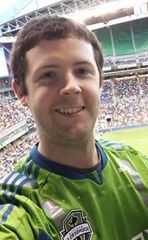 Sean Voeller
Became an important part of the Pediatric PT & OT Administration staff in October 2014 and took over the responsibilities of Office Manager in November 2019 when Lavonne Norris retired. He is friendly, welcoming and dedicated to his work. Sean is often the first person you will speak with on the phone at the main office. He is a good resource to discuss our services, working with insurance and account or billing questions. If your insurance plan requires preauthorization for Occupational Therapy, he is the primary person to help walk you through that process. Sean is always happy to greet everyone at the office.
Sean enjoys cheering for the Seattle Sounders and the Seattle Seahawks, spending time with his wife and dogs, reading, and playing games with friends.
---
Monica Compton
Monica joined the Pediatric PT & OT Services team in September of 2022. Working alongside Sean, she is a wonderful resource and often speaks to and assists both current and future clients.
Monica was born and raised here in Seattle. She lived briefly in California, but nothing can compare to all the Northwest has to offer. She enjoys weekend camping trips with her son and spending quiet nights at home with her family.